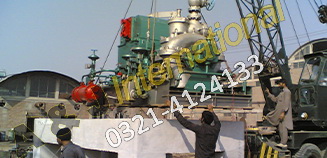 Power Generation Machinery & Services
---
SOLID FUEL BOILER STRUCTURE & TUBE DESIGN


Water tube boilers for steam power generation have many design options, which include:

A-Type




D-Type

I-Type

O-Type

We use standard D-Type design, following the Babcock & Wilcox. This design options has many advantages including simplicity, efficiency, ease of maintenance and reliability:

In case of fabrication from the scratch, the solid furnace is included in basic design. However, if the boiler is purchased from ship breaking, the D-side, bottom or other sides of the boiler are cut to add furnace inlet in accordance with basic design:



Click on any Part to View related Info

....

....
---

Copyright © 2019-20 A & J International. All rights reserved - - Site Map