The Dual Fuel Kit is installed in Diesel Generators for mix fuel operation, i.e., Diesel + Natural Gas.
Our customized kit enables the Generator to utilize 50% of Natural Gas and 50% of Diesel Fuel. This provides a major reductin in running expenses.
The Dual Fuel Kit can be installed in all ratings, however, 100 kVA and above ratings are most suitable for this purpose.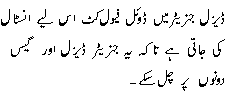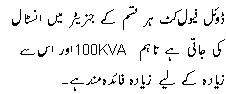 Price List for Dual Fuel Kits

10 kVA to 90 kVA

Rs 60,000/-

100 kVA to 190 kVA

Rs 1,50,000/-

200 kVA to 450 kVA

Rs 2,50,000/-

500 kv & above

Rs 4,00,000/-

- Visit charges are not included.
- Genset shall be monitored before installation of kit.
- These are just estimated prices. Actual expense shall be forwarded after genset inspection.
No major engine modifications required

. No efficiency losses

. Low cost and easy to install

. Reduces running costs

. E xtends life-time of standby engines

. Lowers emissions

. Does not require high-pressuregas supply
. Allows use of interruptible gas
. State-of-the-art controls and monitoring